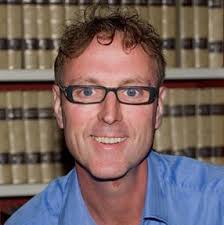 Amos Groth, Sydney-based cabinet maker, interior architect and designer, and principal of Groth & Sons has a long established tradition of creating bespoke rooms that fuse classic with contemporary and sensibility with sophistication. Originally from the U.K. Amos apprenticed in some of London's grandest homes, his solid background in building construction and hands-on experience in architectural restorations gave him a practical head start and unique advantage upon entering the realm of interior design.
Amos established Groth & Sons in 1998. With a reputation for being uncompromising when it comes to quality of finish, he made a name for himself with his high level of personal service and his ability to consistently offer his clients something unexpected and out of the ordinary, as well as, the promise that with his unique understanding of the best way to build that fashion will never subvert function.
Commissions range from one-off pieces of custom cabinetry, bespoke library fit-outs through to complete residential design. Amos's extensive experience and triple-talent marriage of joinery, architectural and interior design principles result in rooms superior in both function and style; elegant, individual interiors which are innovative and timeless.
Amos  endeavours to provide his clients with something unique, is uncompromising when it comes to quality of finish and realizing projects in the correct manner, on time. His work always distinguished by his design integrity and compulsion to do things properly. He has worked in the building industry since 1979 and has been able to draw on the knowledge gained from his English background in Europe working in the fields of carpentry, building,  architectural restorations and bespoke cabinet making. Amos studied at the prestigious Design Centre Enmore and this formal training has given him the design principles and conceptual skills to add to his extensive building education thus allowing him the confidence to push the limits of materiality and construction techniques, this reflects in his bold ideas, creative solutions and excellence in implementation. Amos went on to lecture and teach interior design at DCE.
Outside of design Amos is the proud father of three boys and loves to cook and keep physically active. Amos is a level one cricket coach with Cricket Coaches Australia, a level one Rugby coach with the Australian Rugby Union and if that weren't enough to keep him busy, he is a Veteran Sabreur, fencing at a National level and recently ranking 6th place in the 2014 Australian Fencing Federations 'Australasia Oceania championships' and competed for New South Wales in the National Team Championships.
Acknowledgments:
Publications featuring Amos' work: Belle, Inside Out, Home Beautiful, SMH Domain & Good Weekend.
Nominated for the Minister's awards for Excellence: Employers of Australian Apprentices, 2008
Nominated for the NSW Training Awards
Finalist in the Design Institute of Australia GOTYA, 2007
Qualifications:
Adv. Dip. Interior Design with Distinction
Contractor Licence: 45617C
FIAA member No: 1994
Cert IV Training & Assessment TAE40110 & TAA40104