Groth & Sons unequalled reputation for producing bespoke cabinetry and interiors comes from decades of hands on experience. One of Sydney's premier cabinet making and interior architecture companies, Groth & Sons are renowned for excellence, over a wide-ranging skill set in all aspects of interior architecture and interior design. Disciplines include custom made joinery, custom cabinetry, boiserie, wall panelling, built in bookshelves and our piece de resistance…residential library construction. Groth & Sons quickly become known as 'The Bespoke Library Outfitters', a term coined many years ago by a leading interior design stylist and author, Megan Morton. Our passion, understanding and implementation make them the one stop shop for all things to do with the home library.
Cabinetry that is thoughtfully designed, beautifully hand-crafted and perfectly fitted
Our Sydney cabinet makers are renowned for interior cabinetry that is thoughtfully designed, beautifully hand-crafted and perfectly fitted. Attention to detail sets us apart from other cabinet makers, and principal Amos Groth's interior design background ensures that their furniture items really do stand the test of time. A bespoke piece from Groth & Sons may not be considered trendy or the latest craze, but it will be judiciously designed, painstakingly finished   and always functional. Nothing associates itself more with the couture end of interior architecture and design than custom built cabinetry, it can set the tone of an interior space and can accommodate your every need, but it does come at a cost.  With this in mind it makes a lot of sense to engage the advice and creative vision of a professional to get the details right first time.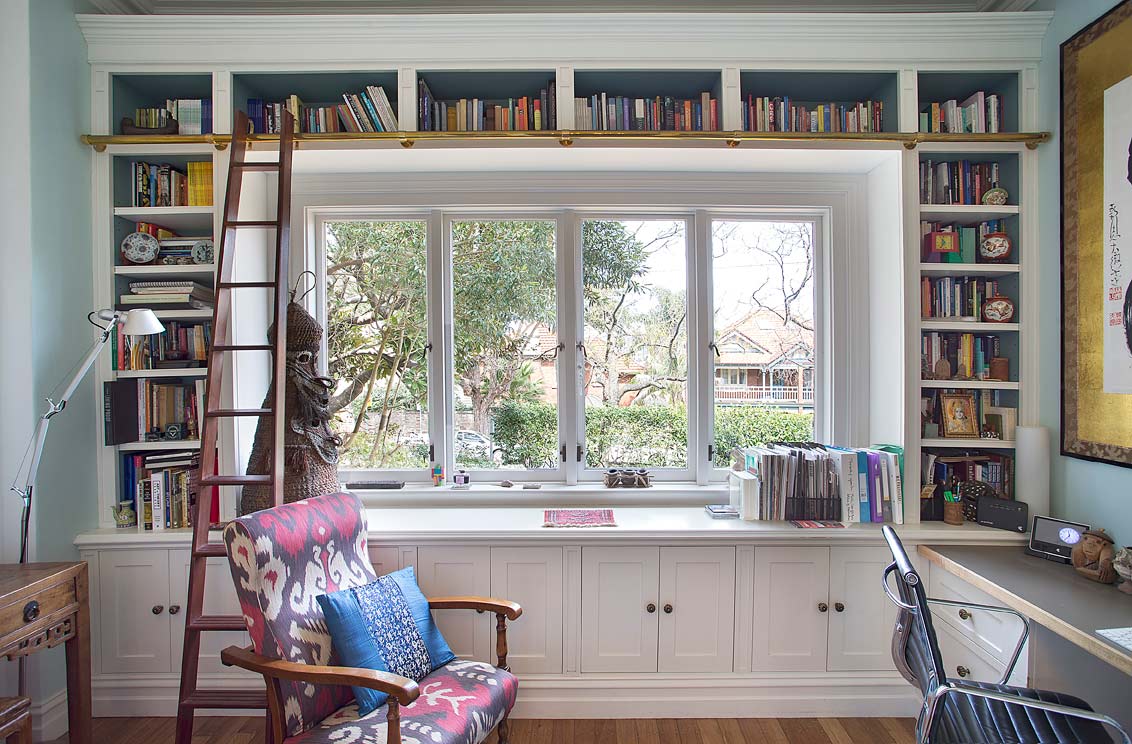 Responsive to both Aesthetics and Practicality
Precision on the drawing board prior to manufacture ensures that you, the client, receive a piece of furniture which is responsive both aesthetically and practically and ultimately carries with it an intrinsic value. Having a designer that is hands-on can make a huge difference in the benefit from the multi disciplines involved in the design process. Commissions range from audio-visual cabinets, dressers, unfitted kitchen pieces, built in bookcases and exclusive joinery pieces. Every project is executed in superb detail to give you peace of mind, confidence and complete satisfaction. Groth & Sons can fashion unique interiors that will enhance the way you live, covering all architectural styles. Groth & Sons can devise a comprehensive blue print of your home; attend to all your cabinetry needs, help with lighting design, soft furnishings, colour consultation and even assist with furniture and artworks selections.
At Groth & Sons you the client are the most important; you will be listened to, worked with and taken step by step through the design development process. The mix of innovation and resourcefulness, with sound guidance and proficient expertise, ensures an outcome that is measured, finely crafted and exquisitely resolved. From concept through to completion the design development is consultative, strategic and pragmatic ensuring an outcome that is well-considered, beautifully resolved and finely crafted.
Creating interiors of integrity
Not only can Groth & Sons furnish your dream library, a strong history of architectural restorations, interior architecture and project management ensures the creation of total living environments that are out of the ordinary; clever by design, uncompromising and distinctive and when it comes to project delivery offer exceptional service with projects executed in meticulous detail for complete peace of mind. Enthusiastic, skilled and with the desire to excel Groth & Sons are the cabinet makers with a difference, with a multi-disciplined approach will transform any space, through the process of creative thinking, strategic planning and careful implementation. Whether your design project is large or small; a one-off piece of custom cabinetry, an entire library fit-out or a complete home makeover it will be carried out with precision, passion and aplomb.
Call Amos Groth on 0419 408 988.