---
–  magnum opus, n.phr.
1. A great work of art, literature, etc.
2. The most important work of an artist, writer, etc.
A Great Work, masterpiece, magnum opus or, master of work,) in modern use is a creation that has been given much critical praise, especially one that is considered the greatest work of a person's career or to a work of outstanding creativity, skill, or workmanship.
---
Pedigree
A recent project (completed in October 2016), by Sydney's bespoke library outfitters Groth & Sons, the brainchild of its principal Amos Groth, may well fit under the banner of his Magnum Opus. His greatest work to date is the combination of talent, hard work and passion.
This aptitude for great design stems from the accumulation of skills, some learnt first-hand, others handed down through generations of artisans. His Father apprenticed as a decorative painter and his Grand Father, William Henry Groth, as a carpenter and joiner. On his Mother's side, he is a descendent of Harold Charles Francis Harvey, the 20th Century British painter who studied at The Académie Julian in Paris. On returning to his Cornish home of Penzance, Harold became a member of the Newlyn Society of artists and later, with best friend Ernest Procter, established the Harvey-Procter School in Newlyn, Cornwall. So it appears that the aptitude he shows for design and his artistic flair may well be genetic.
Natural ability aside he apprenticed in the UK in 1979 and launched his first business in 1982, 38 years on and he loves his work more than ever. That's in excess of 99,000 hours practicing what he loves to do, albeit through a process of reinvention; starting life as a carpenter and general builder, going on to the restoration of heritage properties and then immersing himself in interior architecture and design.
So what makes this project so special? Well firstly, all the design, cabinetry, fibrous plaster work and decorative finishing were undertaken, and completed with little help outside the skill sets of himself and his eldest son, Oliver, the fourth generation of Groths', and heir apparent.

Consultation
A project which spanned the best part of three years from inception to completion, started as always with client conference. The design process, which is a great strength of Groth & Sons, took several months and a number of site consultations. The brief was fairly open and after a few design directions, client trust was eared and Amos was pretty much given carte Blanche. The ultimate goal, to build an interior that encapsulated and articulated his clients' dreams, to transport her to another place. Given such a stylish and creative thinking client, a writer, and one with a penchant for things European, Amos set out to create a very special space.
A first glance, via entry through a pair of five meter tall doors, revealed a dusty room of bare brick, exposed services and a cantilevered concrete mezzanine slab …. a real blank canvas. Before any detailing could be considered there were a few teething problems that had to be addressed.
Problem: The location of a bank of internal window frames created asymmetry to the mezzanine floor and downplayed the room's proportional composition.
Solution: Block out internally, whilst keeping the architectural integrity of the building's exterior. This created a bank of bookcases reaching a total of 5.4 meters in height from ground floor to top of mezzanine level.
Problem: A ground floor nib wall, commonly used in the building of brick walls with more than one floor. A jib is used to take the weight off of a wall in a building, creating a change in the plane of the wall and creating a discrepancy between ground and mezzanine levels.
Solution: Rather than projecting the entire bank of joinery forward of the jib wall and services, a false wall was constructed and finished with ornamentation in the form of decorative plaster paneling above wainscot paneling.
Problem: The mezzanine slab is a large mass of concrete and if not considered in the overall design concept would appear far too dominant within the space.
Solution: Create a fascia which visually softens and adds integrity to the classical language created within the project, it also provides a visual link between ground and mezzanine levels. A personalised inscription was also added to visually break the expanse and to inject an air of curiosity and another design dimension.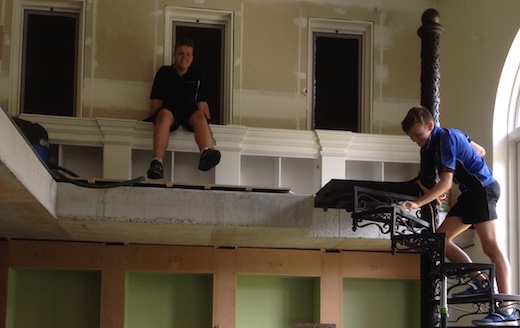 Construction
After several months of design work and consultation the construction commences in the studio of Groth & Sons. Here well over one thousand individually machined pieces fit together in preparation for delivery to site as two hundred plus, pre-fabricated timber sections. On location all units are joined together like an elaborate jigsaw puzzle. The original mezzanine windows are blocked out internally, whilst maintaining the architectural integrity of the building's exterior. Once all the cabinetry is positioned it's time to start on the fibrous plaster work. The Architectural plaster detailing consists of nearly six hundred individually hand-made pieces painstakingly moulded and delivered to site where Amos and Oliver methodically pieced them together as the second stage of the prodigious jigsaw. The layering of classical detailing and ornamentation give this residential library the feel of a Parisian Salon.
When thoroughly dry, this takes over three weeks because they are all solid sections, the decorative painting begins. Nine coats of hand mixed metallic paints and glazes are artistically layered to create a truly unique aged finish. Foundation coats build up a solid base, bronzes and golds embellish, glazes enhance, the sum of which gives a dramatic façade, but has all the subtlety of a surface that has been allowed to mellow over time. The overall colour palette has as richness and warmth which sits atop a broken white cabinetry base emphasizing the shadow lines drawn from an age of classical architecture. Decorative plaster bands are fitted above wainscoting to dress all remaining walls not covered in bookcases. These visually connect to the base cabinetry, grounding the design and creating continuity throughout and a rhythm through repetition.
Even the door knobs were hand-made and hand finished, showing a beautiful Corinthian detail from Mother of Pearls' Antiquity range. These are indeed pieces of Jewellery for cabinetry.
The result, part Petit Palais, part film set, part functional office space, still holds true to the Groth & sons belief that a residential library is a place of respite, a functional living space that is beautiful, restful and is harmonious with the rest of the residential spaces. The home library is a place where this client can retire to write her poetry, read or just unwind. A residential library, however ornate should also be a space that owners can proudly point to as being reflective of their personal tastes and life experiences.
---
A message from our client
Dear whomever it may concern,

Amos Groth, of Groth & Sons, has worked closely with me over the past three years on a project close to my heart, my home library. A personal dream of mine for most of my life, to have found a craftsman such as Amos to bring it to life was indeed special. From our first meeting until completion, a span of over three years, Amos has been nothing short of professional, dedicated, and most important to me, passionate about the project as though it was his own.

Both Amos and his son, Oliver, are bright, happy individuals, who remain focused when on the job. They put so much effort and love into their work, a personal touch which remains within the library walls long after they have packed their tools and paints and moved on. It was a privilege to have them construct a dream before my eyes. Amos would take on board my requests and inject his experience and thoughts also, a combined effort laced with much respect.

It is a rare thing in this day and age to find an individual, let alone a team, who is worthy of the title, Master Craftsman. It has been a great honour to have had a third-generation expert apply his knowledge and experience to such a personal project. I cannot recommend more the work of Groth & Sons.

Sincerely,
Dany Hatem-Rahme, Glenhaven
---